Home » Terms and Conditions
It may only be January, but it's 'the year to pioneer' and we've got #BIBAFever already! We've booked our stand ready for #BIBA2020 and can't wait to see you at the big event this May. For more details, visit our events page at https://t.co/oknscUT5iR
Twitter feed video.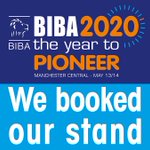 Burning up the M62 this week, as we're back at @mcr_central for some more #eventplanning. Today we're meeting with our fabulous partners at @BIBAbroker & looking forward to working with them towards another wonderful event week in May #Manchester🐝 #DeliveringEvents #BIBA2020
Twitter feed video.
A huge congratulations to @BIBAbroker for the launch of its biggest manifesto to date. #BIBA2020

https://t.co/nNIHZSzWwS
Load More...